When it comes to cruises, ocean liners usually steal the limelight. While we love the floating-resort-like- feel of an ocean cruise, our hearts are equally fond of river cruises, which offer a more sophisticated, boutique-hotel-like ambiance.
A river cruise is a voyage along inland waterways, often stopping at multiple ports. Since cities and towns often developed around rivers, river cruise ships frequently dock in the city centers and historical districts – offering a unique advantage over ocean cruises. And while river cruise ships are small enough to accommodate narrow passageways, don't assume you'll lose any coveted space. In fact, river cruises are known for spacious cabins and suites, most of which boast exceptional views.
An industry leader in maximizing space, Avalon Waterways offers guests more than just a balcony, with suites featuring the widest-opening, wall-to-wall, floor-to-ceiling panoramic windows in river cruising. With your choice of over 70 cruises on ten rivers through 22 countries, you will never run out of destinations to explore in the relaxed luxury that only Avalon Waterways can deliver.
Acendas Vacations travel advisor Kimberly Shannon recently traveled to Europe and enjoyed a 7-day Avalon Waterways river cruise. Read along as she shares some of her tips and recommendations.
When did you travel with Avalon?
I traveled the last week of August, and the weather was lovely. I carried a lightweight sweater with me but rarely needed it. We encountered a storm one evening, which was a welcomed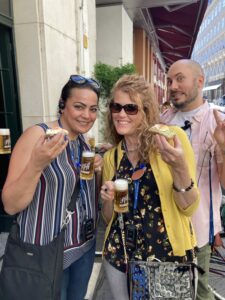 blessing as the rivers are relatively low right now due to droughts. Luckily our cruise could sail the complete itinerary and was not affected by low water levels.
What trip specifically did you take?
I took the Danube Dreams (Eastbound) cruise on Avalon View. We cruised along the Danube River through Germany, Austria, Slovakia, and Hungary.
What was your favorite part?
ALL OF IT! It was casual and laid back but also allowed opportunities to dress up (I hadn't done that in a while due to the pandemic).
The ports were so fantastic and left me wanting to return to explore more. I could take the same trip over again and never experience it the same way twice – there was just so much to see and do.
What was unique about the Avalon experience?
Even though I had not been on a river cruise before this experience, I felt what was unique were the cabins. I have been on many ocean cruises before and never had a nice size, comfortable bathroom. Our cabin's bathroom was spacious and had a shower that you could move around in—a huge bonus. Avalon Waterways cabins and suites are thirty percent larger than the industry standard, and you can feel the difference!
Tell us about the food and beverage options.
The food and beverage options were very nice. The cuisine was specific to the port we were visiting that day, such as freshly picked apricots and local paprika, which made it fun. Wine selections at dinner were also reflective of the port in which we were visiting.
I loved the option to grab smaller bites in the Premium Lounge, and the little cookie jars at the back of the ship in the Club Lounge kept finding their way into my day. They provided small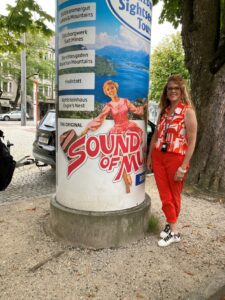 touches that made a big difference.
How were the excursions?
The excursions were great! We took a walking tour of each port, which was included in our cruise cost. We also signed up for a few paid excursions and had a blast. As a Sound of Music nut, I loved the Salzburg excursions and may have sung my way through that day and the days that followed!
We also enjoyed the Bites and Highlights tours (especially the one in Vienna), and we had the best guides, which always makes for a great experience. Overall, the tours and excursions were very nicely organized. The groups were well-sized, and you could request a group that would allow for a slower pace if needed.
What type of traveler would you recommend this trip for?
I'd recommend a river cruise to a laid-back traveler who wants to check destinations off their bucket list without packing up and moving all the time.
I heard the term 'port collector' while on board, and I loved it! River cruising is a great way to move about and see fantastic destinations without being too far from your bed!
Anything you wish you knew before the trip that you learned on the trip?
I wish I had thought more about doing a pre and post-cruise stay. As I mentioned, there is just so much to see and do – a few days before and after the cruise would have been great! Avalon Waterways offer curated packages for pre and post-cruise extensions to your cruise itinerary. I plan to take full advantage of that next time.
Any other details?
The crew was fantastic! Everyone was extremely friendly and didn't miss a beat. The bartenders never let a glass go dry, the waitstaff was very attentive, and the activities crew were energetic and fun – providing a variety for everyone to choose from. The entire crew elevated the whole cruise experience from great to exceptional!
If you would like to experience Avalon Waterways' once-in-a-lifetime views, first-class service, and award-winning excursions, contact your Acendas Travel Advisor using the following form: