Can you feel it? Cooler temperatures, festive gatherings, and an electric energy in the air that only means one thing. The holiday season is upon us, and another year is close to an end.
In the quiet moments between the hustle and bustle of the season, we often reflect on the year, mulling over work accomplishments, fitness goals, budgets, and most importantly, family. And as we look ahead, making plans and resolutions, we take stock of the destinations we want to see and the people we hope to explore them with.
Acendas Vacations Division Director JoAnne Weeks knows that this time is significant to her clients. "Something about this time of year brings out the nostalgia and sentimental side in all of us," states JoAnne. "We look forward to the year ahead, planning for milestone occasions like birthdays and anniversaries, and think about the people we most want to invest our time in."
With restrictions eased and borders open, the opportunity to travel to and with those you hold dearest has never been more accessible. "From multi-generation spring break getaways, destination family reunions, and holiday escapes – we are seeing our clients take every opportunity to reconnect and make up for the time the Covid pandemic stole from all of us."
If Covid has taught us anything, it's that time and togetherness are the most precious gifts, year-round. "Clients who are traveling with family generally aren't booking complicated itineraries. They want simplicity and ease, maximizing their travel experience together," states JoAnne.
At Acendas, we often recommend a tropical destination at an all-inclusive resort for families of young children and multi-generational families traveling together. An all-inclusive resort provides the ease parents need most when traveling. Everything is on-site, from food to entertainment, spa treatments, and water activities – all available to you without any exchange of money, keeping your hands free and your focus on your time together.
Read along as three trusted Acendas Vacations travel advisors share their favorite family-friendly all-inclusive resorts.
Maisoon Barghouty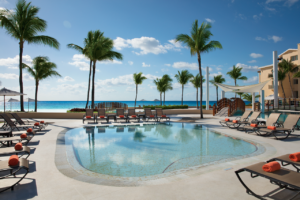 Go-to resorts: Dreams Riviera Cancun and Dreams Jade.
Why: Both resorts are located on a beautiful sandy beach in Cancun, Mexico. They have great programs like the Explorers Club for kids ages 3-12, offering games, arts, crafts, and even a camping adventure on the beach. Their Core Zone Teens Club is for ages 13-17, featuring daily activities, sports, and games for teenagers. While the kids are having fun, parents can get some alone time in or enjoy the spa.
Families can enjoy on-site bike rentals and non-motorized water sports while working up an appetite for one of many restaurants. And on-site Covid testing means you don't have to worry about taking the family to a local clinic before departure.
Jonan Stover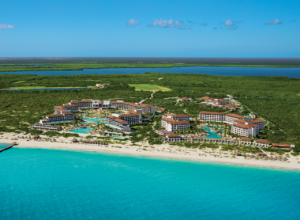 Go to resorts: Dreams Playa Mujeres in Cancun and Barcelo Maya Palace in Riviera Maya, Mexico
Why: Their amenities, programs, and activities are very family focused. And the food is exceptional!
All the rooms at the Barcelo are suites, which is excellent for families who need a little extra space. There is a waterpark, shopping village, bowling alley, and the opportunity to swim with dolphins on-site.
Dreams also have a waterpark with a lazy river, a rock wall for adventurists, and dance lessons for the family to enjoy together.
Rachele Schroeter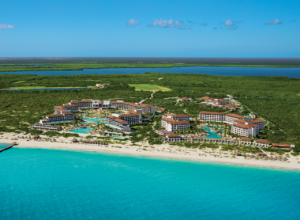 Go to resort: Dreams Onyx in Punta Cana, and Dreams Natura in Cancun, Mexico
Why: Dreams is a fantastic hotel brand that consistently provides excellent service. When I send my clients to a Dreams Resort, I know they will be well taken care of. I have yet to hear a bad review.
The family suites at both resorts are very spacious. Each has a fabulous waterpark and several pools, including an adult pool and a sports pool with water volleyball. Families can enjoy the restaurants without having to make a reservation, which is convenient when you have little ones and plans quickly change.
Reach out to us today to learn more about our wonderful vacation options.